Eva Serrano, Broker, REALTOR®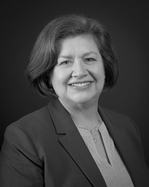 630.844.8682
630.897.3921 fax

Eva@PilmerRealEstate.com
1002 Prairie Street
Aurora IL, 60506
Receive Email Alerts from Me
        I was reminded in real estate school that buying a home could be one of the most important investments in a person's life.  Growing up in a two-flat with immigrant parents, and then watching them own their single family 'dream home' taught me how much my parents relied on an informed and competent Real Estate Broker for advice and help in realizing their dream.   These early memories guide me as a Real Estate Broker because I remember how much my parents relied on their Real Estate Broker to listen, advise, and work hard to deliver great results to my parents. 
        And, because I grew up speaking Spanish at home, I also enjoy assisting families learn and navigate new systems that might be completely foreign due to different upbringings.  I was an early teacher in my own family helping my parents, my younger siblings, aunts, uncles, and cousins figure out how to open checking accounts, apply for loans, file income taxes, and manage doctor's appointments.  My role back then applies today:  I describe options, listen to concerns, answer questions, and work together to find the best possible outcome for the person or family I'm assisting. 
        In addition to the solid work ethic I learned from my own parents, I also enjoy having fun with family (my baby is 23 years old), traveling, going to the theatre or catching a movie.  I also like to discover new cultures, which I think comes from our annual summer trips to Mexico to visit my maternal grandparents.  My father, who was from San Sebastian, Puerto Rico, was a great role model for me because he loved sharing his Puerto Rican heritage while celebrating my mom's Mexican heritage.  I also lived in Greece for one year after college, and then spent a summer studying French in Aix-en-Provence, so meeting new people, asking questions, and discovering new possibilities is part of who I am.  This natural curiosity and desire to work hard is what will allow me to deliver solid results and serve client needs as a Realtor.
        I look forward to meeting and serving you as you consider your next real estate purchase or sale.  Espero conocerlos en persona cuando quieran vender o comprar casa.